Meet the finest custom-built motor coaches
From the moment this coach arrives, you know it's something special! It commands attention owing to its unique design and presence.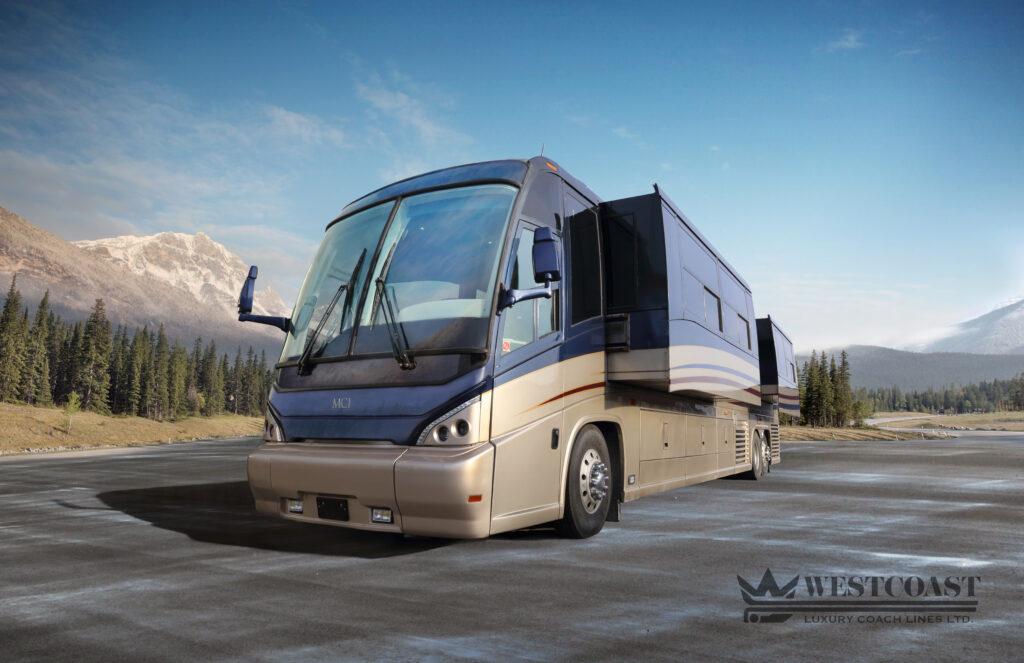 It is the only "triple slide" corporate motor coach in North America. 
When parked, this coach has the ability to extend 3 sections out the sides to create a large forward lounge and a very comfortable and roomy meeting room in the rear.
Inside, the coach has a seating capacity of 20 passengers in luxurious sofas, easy chairs and lounge seats, as well as a 4-person dinette.
The galley provides a 2-element halogen cooktop, a sink, a hot water dispenser for tea, 21-cubic-foot fridge/freezer and a convection microwave.
There is a full bar, as well as plenty of storage in the beautifully crafted cherry finished cabinetry.
The washroom is very roomy and comfortable even for the most discerning traveler.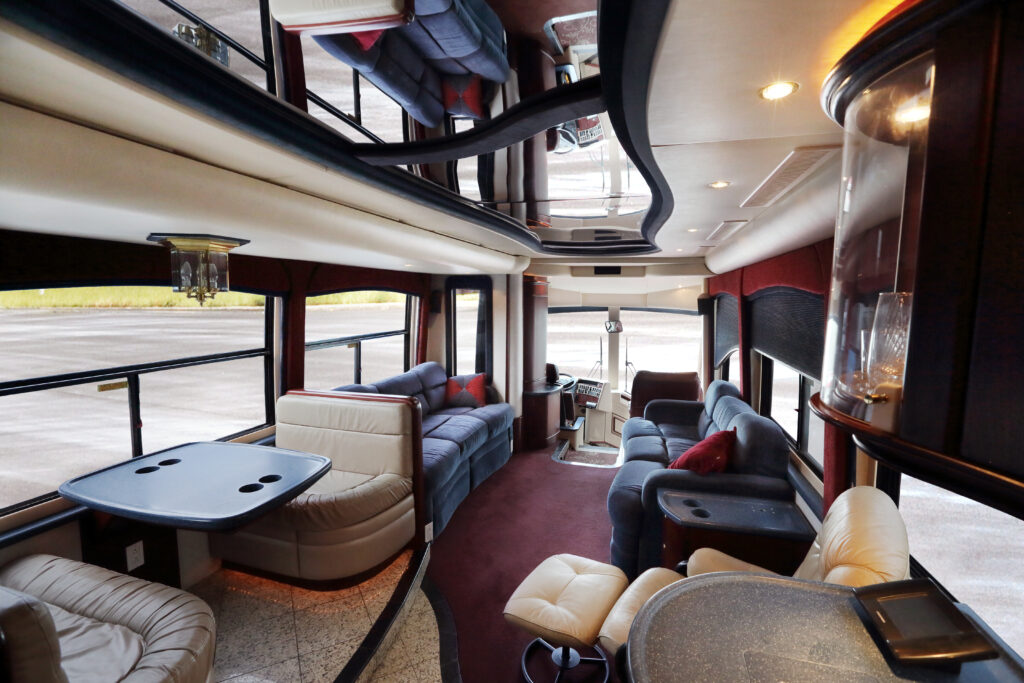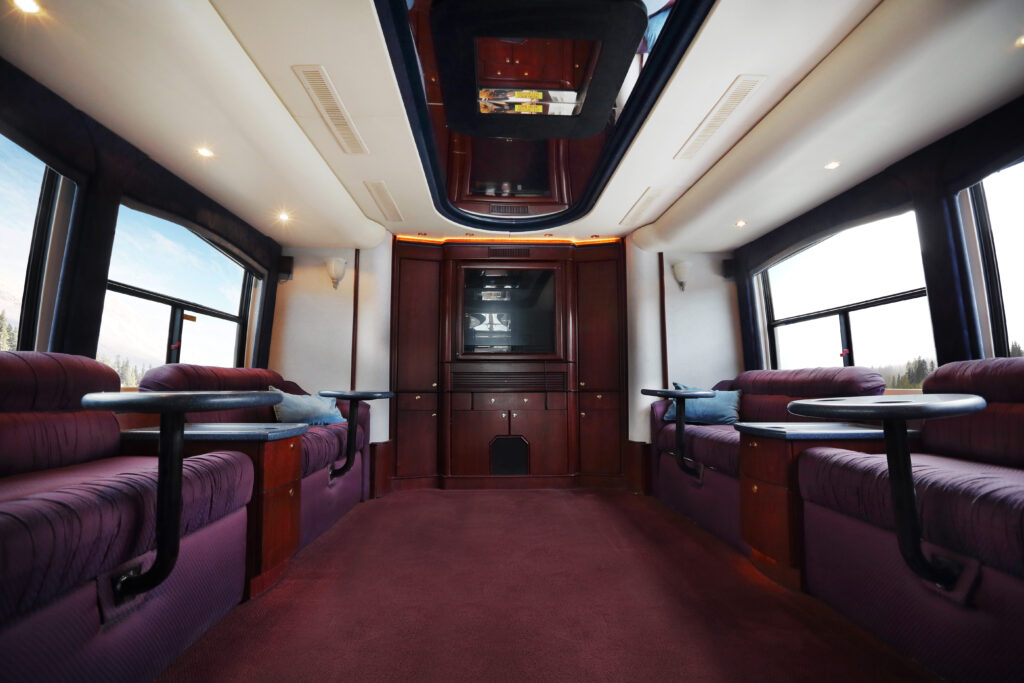 Private Meeting Room on Board
The rear meeting room allows for 8 people to gather and discuss issues or enjoy the comforts of watching the large flat-screen TV complete with sound surround audio. 
The coach has 2 separately controlled audio systems: one in the front and one in the back. 
The rear lounge has a large LCD screen TV controlled by an in-motion satellite receiver for your constant viewing pleasure.
From the fine wood cabinetry, leather seating and marble counter tops, to the latest communication and audio visual technologies, you will be able to relax knowing that all your needs are looked after.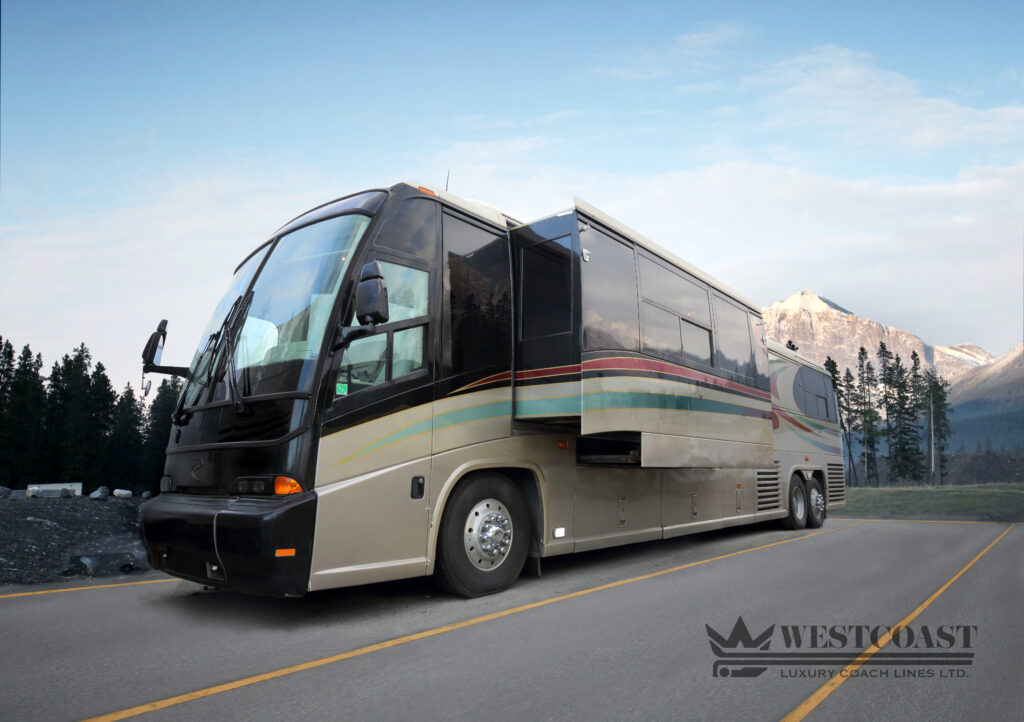 Single slide creating a large forward lounge with a full entertainment system including a large TV.
Finished in rich Canadian maple with lots of storage spaces.
Seating capacity of 18 people featuring couches, love seats, a 4-person dinette and a luxurious captain's chair.
Full kitchen with a 2-burner halogen cook top, a microwave, a double sink, a 24-cubic-foot side-by-side fridge/freezer and a full bar.
A generously sized bathroom as well as a commode.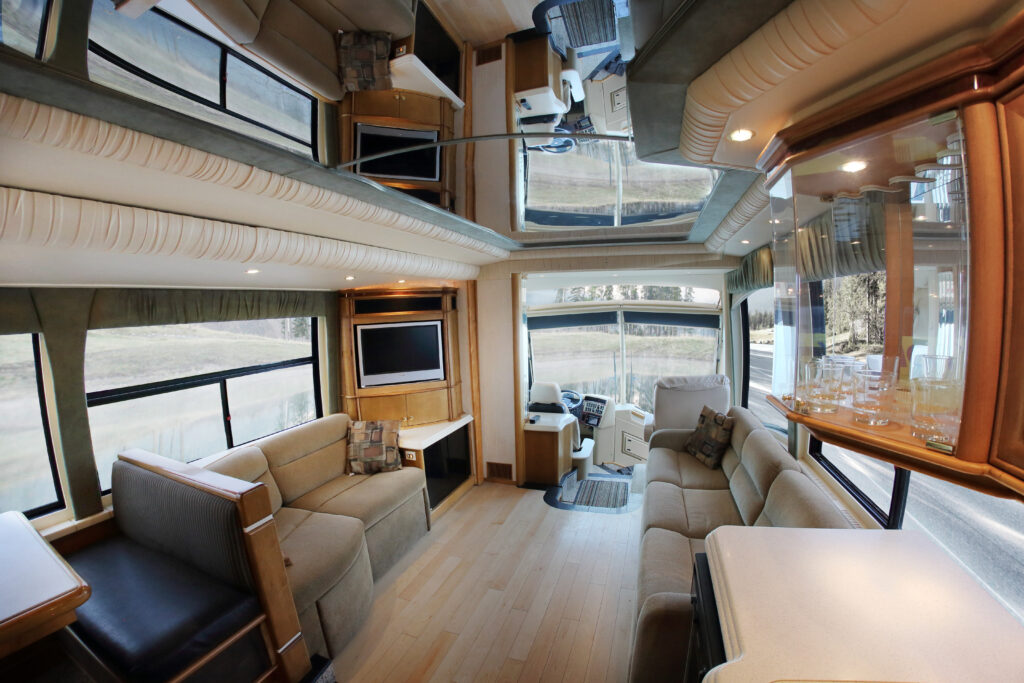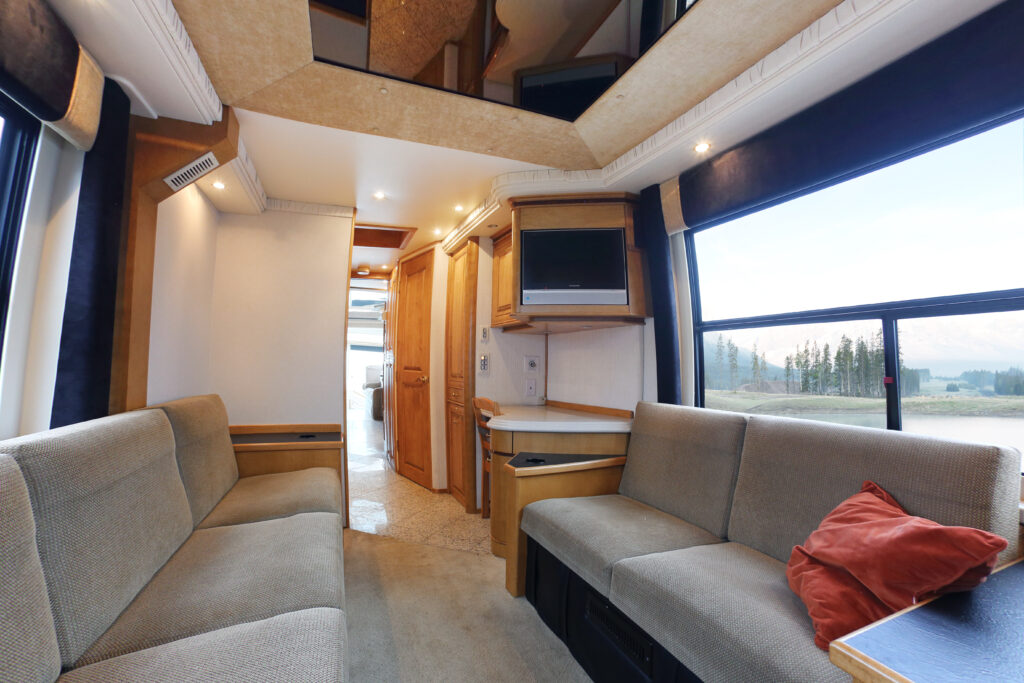 Private Meeting Room on Board
The back room boasts a meeting space for 7 – 8 people complete with a full entertainment and multi-media centre.
It also features a work desk in a room for a full office setup, including a computer, a printer, and lockable file drawers.

Outside, there is a 23-foot awning protecting an outdoor entertainment centre complete with a barbeque. "Tailgate party," anyone!
VIP 30 seater motor coach – coming soon
New custom built on 45 ft motor coaches with un-compact seating arrangement (30 seating cap. seat belt equipped), mini bar, and upgraded on board facilities. More comfort, more relax, more un-forgettable.
Need a coach for more than 20 passengers?
Our 28- or 37-passenger minicoach and 56-passenger coach are also available. Send us your requirements, regardless of the vehicle size you are looking to charter.